The Six Cs of Captive Value: Focus on Control
Companies form captives for many reasons, but one that is sometimes overlooked is control. This "C" actually defines what a captive can do for an organization as the very act of forming a captive gives an organization a high degree of control and a more disciplined way of managing and financing risk.
 As the primary insurer, a captive insurance vehicle can tailor its cover (policy language), manage claims, and obtain subsequent reinsurance to ensure that the organization enjoys the widest possible coverage at the best price in a fully transparent manner. When an organization establishes a captive, it gains control of premium dollars from the commercial insurance market — and the ability to take on higher retentions.
Reasons for Forming a Captive Insurance Vehicle — The Six Cs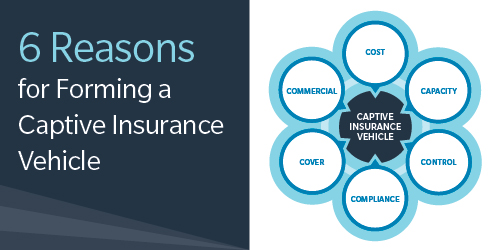 Polices personnalisées
À titre de véhicules officiellement réglementés, les captives permettent aux organisations de concevoir des polices d'assurance personnalisées pour les risques traditionnels ou non traditionnels, tels que les cyberrisques ou ceux liés à la chaîne d'approvisionnement. Les propriétaires de captives se servent généralement d'un tel contrôle pour assurer les risques exclus ou non couverts par les assureurs tiers.
Il existe également des cas dans lesquels les modalités d'une police d'une captive diffèrent de celles des assureurs sous-jacents ou de ses réassureurs. Dans d'autres cas, l'avantage que procure une captive peut s'attacher à d'autres aspects du contrôle.
Par exemple, lors de son dernier renouvellement, la société XYZ a découvert que sa police d'assurance complémentaire de la responsabilité civile de longue durée ne serait pas renouvelée par la société d'assurance ABC. Un autre assureur, la société d'assurance 123, a émis une nouvelle police d'assurance complémentaire pour la société XYZ et ses filiales. Traditionnellement, la société ABC donnait à la société XYZ la possibilité de conserver le contrôle sur sa défense en cas de réclamation. La principale préoccupation de la société XYZ avec le nouveau programme complémentaire de la société 123 était de savoir si elle pourrait continuer à recourir à son propre avocat pour plaider les réclamations et pour les contrôler.
Pour conserver le contrôle, la société XYZ a utilisé sa captive existante comme une façade, tout en réassurant une partie à l'externe. Cette approche axée sur le contrôle a permis à la société XYZ de conserver ses pratiques d'entreprise actuelles (et préférées). Une telle approche peut aider les organisations disposant de pratiques de gestion des réclamations bien établies à moins se reposer sur les assureurs tiers, tout en leur offrant le contrôle supplémentaire qu'elles recherchent.
Le contrôle est l'un des nombreux avantages qu'une captive peut offrir. Si vous pensez qu'un véhicule de captive serait profitable à votre organisation, demandez à vos équipes fiscales et comptables et à vos divers conseillers de déterminer la configuration qui répondrait aux besoins uniques de votre organisation.