Trade Credit Insurance: Why Information Is Key to Achieving More Coverage
It is vital that companies help to ensure trade credit insurers receive up-to-date financial information.
Without recent financial information, your insurer might feel unable to make a sound judgement about your customers' creditworthiness. This could lead to your insurer refusing new credit limit applications and reducing their existing exposure.
More than ever, the flow of up-to-date financial information is fundamental, due to the fast and drastic changes in many companies' finances and operations since the start of the COVID-19 pandemic.
However, obtaining this information is increasingly challenging, with companies facing myriad pressures due to COVID-19's impact. Companies may also be reluctant to provide what they regard as "private" information, and may not consider the possible impact on their supply chain of not providing it.
The UK government recently granted companies a three-month extension to file their audited accounts. Consequently, many companies that would have ordinarily filed their December 2019 accounts by September 2020, are not required to do so until the end of December 2020.
This means that the financial information publicly available on many companies is almost two years old. Insurers would typically consider such information too old for underwriting purposes—potentially leading to them removing or reducing cover for some of your customers.
Practical steps
Where possible, we recommend you to contact your customers and ask them to provide financial information more readily and frequently.
A common example of where your trading relationships can yield success is the credit limit appeal process. This is typically where more up-to-date and/or detailed financial information can be supplied to the insurer in order for them to further consider a credit limit application.
The diagram below explains how this process can have a positive outcome for all parties.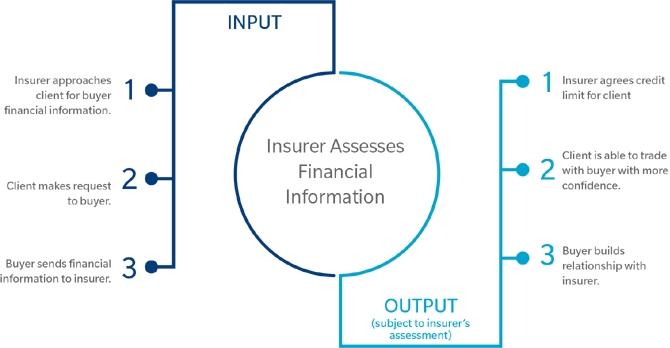 Insurers will consider the following information:
Audited accounts.
Draft/unaudited accounts.
Up-to-date management information.
The financial information should at least include a balance sheet and profit and loss statement.
We understand that it might not always be appropriate for you to approach your customers for such information. If you would prefer for an insurer to discuss the required financial information directly with your customer(s), then Marsh can provide support and help to open up communication channels.
The more financial information that your insurer has, the easier it will be for them to assess your customers' creditworthiness and also provide you with feedback—which could prove invaluable as you look to trade with more confidence in 2021.