Impact of US Tax Reform on Captive Insurance Companies
The Tax Cuts and Jobs Act (TCJA), generally effective January 1, 2018, for most provisions and taxpayers, affects virtually every aspect of the US tax code. The goal of business tax reform was to reduce the overall tax rate and overhaul the taxation of international operations in order to make the US more competitive in the global marketplace. Though the overall reduction of the corporate tax rate to 21% is a welcome development, other changes to the tax code will have a complex impact on the insurance sector and many captive owners are wondering how their organization will be affected.
This article sets out some high-level observations about the very extensive tax law changes and describes some of the key tax code changes captive owners should be aware of and how they may affect a captive insurance company. We strongly encourage captive owners to review and discuss how the new law may impact their captive with their organization's tax department and/or external advisors. While we are not tax experts and cannot provide advice on the matter, we welcome the opportunity to be part of these discussions.
Domestic Considerations
Reduced Tax Rates for Corporations
Beginning in the 2018 tax year, the corporate tax rate was reduced from 35% with graduated rates, to a flat 21%. This income tax rate change applies to US domiciled captives as well as offshore captives making the section 953(d) Internal Revenue Service election (953(d) election). Entities that make the 953(d) election will be treated as a US taxpayer.
Loss Reserve Computation
The new rules require the use of a corporate bond yield curve for the preceding 60-month period to discount unpaid losses and loss adjustment expenses instead of the mid-term Applicable Federal Rate (AFR). Historically, corporate bond yields have been greater than the mid-term AFR. With a larger discount rate, the discounted loss reserves upon which accelerated federal tax deductions are taken will generally be lower when compared to pre-tax reform rules. At present, the IRS has not issued guidance on the precise rate that will be used and planning for the rate change will need to be determined on a best estimate basis until guidance has been issued.
Proration Rules
Under pre-tax reform regulations, property and casualty (P&C) insurance companies were required to reduce losses by 15% of the sum of:
The insurer's tax-exempt interest.
The deductible portion of dividends received (with special rules for dividends received from affiliates).
The increase for the taxable year in the cash value of life insurance, endowment, or annuity contracts the company owns.
The TCJA amended this rule to adjust the proration percentage by which the loss reserves are reduced to align with the reduction in the corporate tax rate to 21%. The key change is that the proration percentage is now linked to the corporate tax rate. It is calculated by dividing 5.25% by the new corporate tax rate of 21% resulting in a proration percentage of 25%. This new calculation is meant to ensure that an increase in the tax rate will reduce the proration percentage and reduction in tax rate will increase the proration percentage.
Net Operating Losses
There were no changes to the carry-back and carry-forward Net Operating Loss rules for non-life insurance companies (unlike the changes made for life insurance and non-insurance companies).
International Considerations
Controlled Foreign Corporations (CFCs)
US companies with foreign captives will now face an expanded definition of US shareholder for purposes of CFC determination. Under the US tax code, owners of CFCs will be taxed on their share of the CFC's Subpart F income; this includes income from insurance operations.
A CFC is generally defined as a foreign corporation in which more than 50% of its vote or value is owned by "US Shareholders," with the standard for insurers being that the combined voting power of all classes of stock has to exceed 25%. A "US Shareholder" was traditionally defined as a US individual or entity that owns 10% or more of the voting stock of a foreign corporation. However, the new definition is expanded to also include US persons that own 10% or more of the value of the stock of a foreign corporation. The new law will look to the value of ownership, or weight of vote in the foreign company, rather than just the weight of vote as was previously the case.
US Shareholders of CFCs are also subject to the new global intangible low-taxed income (GILTI) tax, which serves as sort of a back-stop minimum tax to the new participation exemption regime (i.e., a dividends received deduction, described further, below). GILTI is treated like a new type of Subpart F income imposed on all or a portion of the CFCs' income (above a certain deemed return on tangible assets), but with eligible domestic US Shareholders being able to avail itself of a 50% deduction and an 80% foreign tax credit (FTC). The identification of what type of income is subject to the minimum tax is important in this calculation, which can be complex, and parents of foreign captives should have a discussion with their tax department to determine the implications of the new GILTI tax. Moreover, the FTC mechanics may have unexpected results, and must therefore be considered.     
Participation Exemption (Dividends Received Deduction (DRD))
As part of the transition to a "territorial" tax system, the TCJA has also introduced a 100% DRD aimed at eliminating incentives for US tax payers to accumulate earnings overseas. Previously, income earned by a foreign subsidiary such as an offshore captive was generally (subject to the Subpart F rules and other exceptions) deferred until the income was distributed as a dividend to the US parent company.  The TCJA introduced a 100% deduction for the "foreign-source portion" of dividends received from specified 10%-owned foreign corporations by domestic corporations that are US shareholders of the foreign corporation. This general rule, however, is subject to special rules for hybrids and also imposes a holding period requirement. Therefore, taxpayers should consult with a tax advisor before initiating any dividends to ensure that this DRD applies. 
Transition Tax
Taxpayers who own 10% or more voting interest in a foreign subsidiary must include the shareholder's pro rata share of its accumulated non-previously taxed earnings and profits (E&P) since 1986 in their 2017 income (for calendar year taxpayers). The portion of the E&P comprising cash – or cash equivalents – is taxed at a reduced rate of 15.5%, while any remaining E&P is taxed at a reduced rate of 8% (partially reduced by foreign tax credits, if available). Taxpayers may elect to pay the transition tax in eight installments. The first installment payment is due on the due date of the return (determined without regard to any extension of time for filing the return).  The IRS issued a FAQ document addressing, among other things, some of the questions relating to how and when to make the various elections and payments (IRS FAQ Link). There are many special rules to be considered in computing this transition tax for deferred foreign income and further IRS guidance is expected to address certain issues. The impact to single-parent captives, where E&P is usually already taxed, will likely be very minimal (with respect to such captive).  
Passive Foreign Investment Companies
The new tax reform legislation places restrictions on the insurance-business exception to the Passive Foreign Investment Company rules. Under the new rules, an active insurance exception is available only to insurance companies whose loss and loss adjustment expense and reserves make up more than 25% of the insurance company's total assets. This can be a complex test, depending on the specific facts and circumstances, and companies should seek professional tax advice to navigate if potentially applicable.
Base Erosion and Anti-Abuse Tax (BEAT)
The Base Erosion and Anti-Abuse Tax (BEAT) imposes a 10% alternative minimum tax (5% for 2018 and 12.5% after 2025) on corporate US taxpayers. If applicable, the BEAT tax liability is in excess of the regular tax liability. The BEAT is computed by adding back certain "base erosion tax benefits" to taxable income, and then multiplying such "modified taxable income" figure by the above-noted BEAT percentage (and then comparing such figure to the regular tax liability).  Premium payments made by US taxpayers to their non-US captive insurers and loss payments for claims made by US captive insurers to their non-US insureds are among the payment types characterized as base erosion payments, which generally include amounts that are deductible by an applicable taxpayer and paid to a related foreign person (with various special rules and exceptions, including payments that are subject to the full US withholding tax). Premium payments are subject to being added back into the tax base for calculation of the BEAT even if subject to the Federal Excise Tax.
BEAT only applies to a US corporate taxpayer that is included in a "controlled group" that has both:
Average annual gross receipts of at least US$500 million for the 3-year taxable period ending with the preceding taxable year.
A "base erosion percentage" of 3% (or 2% for certain groups with banks or registered securities dealers).
Other nuances and special rules must also be considered when computing a company's BEAT liability, and further IRS guidance is expected with respect to certain aspects of the BEAT legislation.
Figure 1 below demonstrates a very simplified example of the 2018 BEAT tax calculation for a US taxpayer making premium payments to their Luxembourg (non-US) captive.  The interplay of certain tax credits and other new rules introduced recently, such as the GILTI rules, would also need to be considered when performing a BEAT computation as they could significantly impact the computations.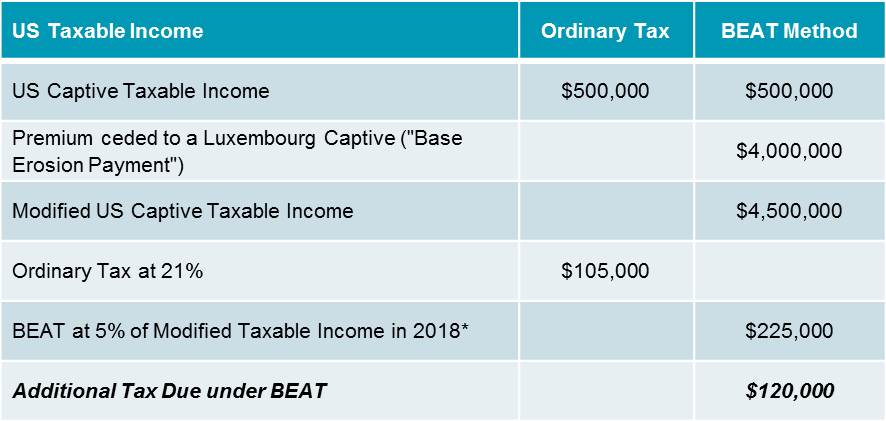 Figure 1
*The rate is 6% for taxpayers whose group contains certain types of banks or registered securities delaers. The rate increases to 10% in 2019 for calendar year taxpayers (11% for groups with such banks or registered securities dealers).
The TCJA implemented many significant changes and the impact of those changes can vary considerably depending on the circumstances unique to each individual organization. We strongly encourage captive owners to review and discuss how the new tax reform may impact their captive with their organization's tax department and/or external advisors.