Insurance Linked Securities Provide Another Reinsurance Option for Captives
Increased pressure for growth and the need to be nimble in reaching financial objectives has made Insurance Linked Securities (ILS) an attractive capital efficiency option for many organizations in 2017. But what exactly is ILS and how does it tie in with captives?
ILS is another form of reinsurance available to insurance entities. However, instead of facing a rated balance sheet, the insurance entity faces a fully secure, collateralized form of funding dedicated to a precise risk requiring coverage. Usually the collateral takes the form of highly-rated, highly-liquid investments, such as government gilt funds or pure money market funds. Premium flows are determined by the type of risk and investor appetite.
How does ILS work?
The collateral for ILS is provided by capital market investors, for example an ILS investment fund, pension funds, institutional investors, and even other insurance companies. Such investors will purchase debt or equity issued by the ILS vehicle and will receive a coupon for this investment. Their capital is committed for the duration of the risk period and invested in the collateral account held on behalf of the ILS vehicle by a third-party trustee.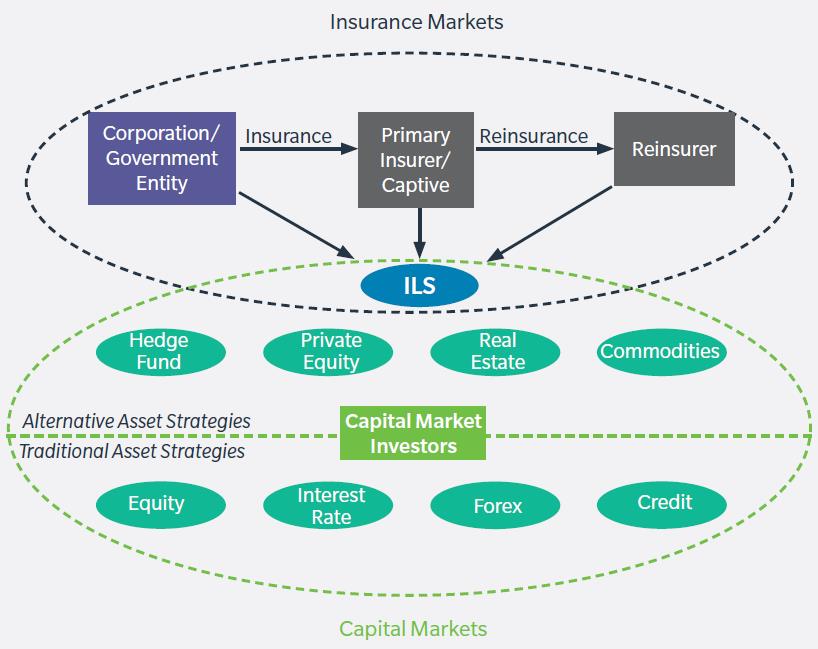 Traditionally, ILS has been used as cover for property catastrophe (CAT) type events, typically for windstorm or earthquake. Therefore there has been significant reliance on established modelling to demonstrate the nature of the risk to investors and provide more certainty about the event trigger as it relates to a specific event.
However, new risks are emerging for which this type of reinsurance is being used:
A Swiss-based investment bank brought an operational risk insurance transaction to the market in 2016, via a quota share arrangement with a leading primary insurer.

A European motor insurer transferred some of its motor third-party liability book to the ILS market towards the end of 2016.
From an investment point of view, ILS is considered  "just another asset class," but has always been seen as  uncorrelated to stock market movements, as ILS are generally only affected by the 'wind blowing' or the 'ground shaking.' The estimated size of the ILS market at the end of the third quarter of 2017 was approximately US$75 billion. Approximately US$30 billion of this market consisted of 144A CAT bonds (a syndicated debt issuance subject to SEC restrictions) with the remainder collateralized reinsurance transactions (usually one to two investors taking on the risk).
What about captives?
For companies with a captive entity as part of their risk management program, the captive can provide a means to reinsure corporate risks through ILS. This proves especially useful when there is limited capacity in the market for the type and level of risk involved or there is a desire to diversify the reinsurance tower.
Coverage can be provided through  a CAT bond issuance or in smaller risk amounts using collateralized reinsurance programs. Coverage is negotiated directly between two counterparties with the risk transferred though an ILS transformer platform, which acts as the common link between the captive and the investor.
Some examples we have seen of captives using ILS for reinsurance include:
Captive 1: In this transaction, the captive placed a US$200 million layer of coverage with a Bermuda ILS vehicle that provides coverage for storm surge risks and is based on a parametric trigger. Trigger events are linked to actual surge heights during named storms as measured by tidal gauges in key locations around greater New York City and the island of Manhattan.

Captive 2: This captive placed US$275 million in reinsurance through a Bermuda ILS vehicle for named storm-related surge and wind risks, as well as earthquakes. Utilizing a parametric trigger, the CAT bond can be triggered if key intensity measurements of the physical parameters for each respective peril, captured at specified measurement locations, breach certain levels.

Captive 3: Through a Bermuda ILS vehicle, this captive placed US$300 million of US earthquake risks, focused on the west coast and featuring a parametric trigger.
Putting captives' capital to work
For captives, placing a higher layer of their reinsurance tower through an ILS structure provides access to collateral funds for low frequency, high impact events that can be released in a relatively short time frame. This means that funds can be put to work to help rebuild the captive parent's business or to deal with client's needs. There may also be positive solvency capital implications (especially in a Solvency II world) as the captive can 'look through' to the rating of the collateral being posted by the ILS vehicle.
Marsh & McLennan Companies, through GC Securities[1], a division of MMC Securities LLC, and Marsh Captive Solutions have now launched Cerulean RE SAC Ltd (Cerulean), which is a Bermuda-authorized Special Purpose Insurer that provides access to collateralized reinsurance by utilizing ILS in an efficient and cost-effective manner. Through standardized transaction documentation, Cerulean provides a single point of access for cedents/captives to long-term capital markets-based protection and to capital markets investors seeking suitable investments in (re) insurance risk.
The future options for the use of ILS as a complementary form of reinsurance are unlimited, especially as interested capital market investors become more sophisticated in their underwriting capabilities and gain a deeper understanding of the risks they are willing to take on.  
[1] Securities or investments, as applicable, are offered in the United States through GC Securities, a division of MMC Securities Corp., a US registered brokerdealer and member FINRA/SIPC. Main Office: 1166 Avenue of the Americas, New York, NY 10036. Phone: (212) 345-5000. Securities or investments, as applicable, are offered in the European Union by GC Securities, a division of MMC Securities (Europe) Ltd., which is authorized and regulated by the Financial Services Authority. Reinsurance products are placed through qualified affiliates of Guy Carpenter & Company, LLC. MMC Securities Corp., MMC Securities (Europe) Ltd. and Guy Carpenter & Company, LLC are affiliates owned by Marsh & McLennan Companies. This communication is not intended as an offer to sell or a solicitation of any offer to buy any security, financial instrument, reinsurance or insurance product.