The Twin Threats of Automation and Aging
Societal aging and workplace automation are rapidly and fundamentally transforming today's workplace.
The Twin Threats of Aging and Automation produced by Marsh & McLennan Companies' Global Risk Center, examines and quantifies the risks of rapid societal aging, and of older workers' susceptibility to automation in fifteen major markets.
Insights from this report will be of particular interest to companies with high concentrations of repetitive manual work at high risk of automation. Some examples of applicable industries include manufacturing, retail, transportation, construction, healthcare, hospitality, and government.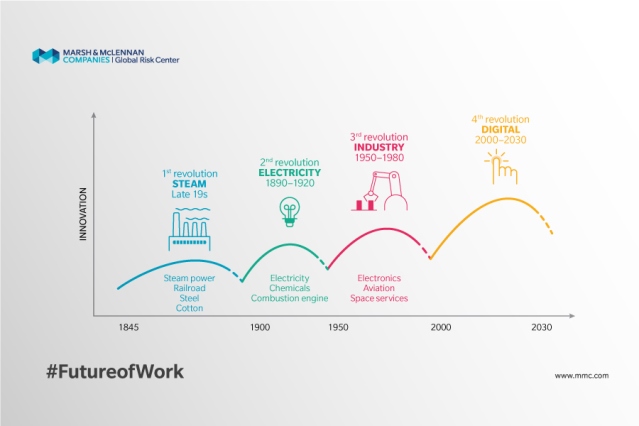 Below are key findings of this report:
Countries with higher rates of aging also face a higher risk of older worker job automation.
Older worker jobs in China and Vietnam are at the highest risk of being automated, with 76 percent of tasks done by older workers in China and 69 percent in Vietnam at risk of being replaced by intelligent technologies.
Canada and Australia have the lowest rates of aging and the lowest average risk scores (at 47 percent and 41 percent of older-worker tasks respectively), making older worker jobs in these countries the least susceptible to automation.
In Germany, older worker jobs are on average 57 percent automatable.
In the United States, older workers are doing jobs that are on average 50 percent automatable.
Key factors that help explain a higher risk of older worker job automation include: education levels, industrial structures, government expenditure, and the strength of legal rights in financial systems.
Download or read The Twin Threats of Aging and Automation.