2021 Virtual Restaurant Risk Management Summit

Please join your restaurant industry peers on Wednesday, June 9 and Thursday, June 10 for our annual Restaurant Risk Management Summit.
This year's theme is "Resilience, Rally, and Reach".  We have a full range of risk management topics for you to participate in from business resiliency and worker safety, to navigating the insurance marketplace and learning best practices from your restaurant peers.  
As a bonus this year, we are excited to have Dr. Dhamu Thamodaran, former EVP and Chief Strategy Officer at Smithfield Foods, Inc. who will host a special, insights packed session on the future of the restaurant industry. This session will also be of interest to Supply Chain and C-Suite professionals so do share the invitation with these individuals at your company. See the full agenda for this event on the right colum of this web page.
Important Registration Notice:
Please note that you will need to register separately for each day of the event you plan to attend. See right column on this page for both Zoom registration links.  Upon registration you will receive a confirmation email from Zoom for each event you sign up for. Please make sure to add the events to your calendar.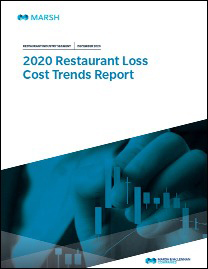 Special Offer For You
If you didn't participate in the 2020 Restaurant Industry Loss Cost Trends Report  you can still find out how your company compares to industry averages by answering three quick questions. Visit the webinar page and fill out the form on the right and we will email you a free custom graphic showing your answers against the restaurant industry results. 
Speaker Bio for Dr. Dhamu Thamodaran
Executive Vice President, Chief Strategy Officer & Chief Commodity Hedging Officer of Smithfield Foods, Inc., Retired
Dr. Thamodaran retired as Executive Vice President, Chief Strategy Officer & Chief Commodity Hedging Officer from Smithfield Foods, Inc. in December 2020, having served in this role since 2016.  Dr. Thamodaran joined Smithfield Foods in 1995 as Director of Price Risk Management.  Prior to joining Smithfield Foods, he had related industry experience with John Morrell Food Group and Farmland Foods, which later become part of the Smithfield Foods family.
With Smithfield Foods, Dr. Thamodaran led strategy development for the firm's vertically integrated business, managed its commodity hedging activities, and oversaw its global economics commodities research and analysis group.  Widely respected for his knowledge of global macroeconomics, agricultural markets, and the pork value chain, Dr. Thamodaran was a frequent speaker before boards of food and agriculture companies, at industry trade association events, and before MBA candidates in agricultural-focused programs.  And in February 2019, Dr. Thamodaran received the Henry A. Wallace Award from Iowa State University, annually awarded to an outstanding alumnus/a in the field of agriculture, for his notable professional achievements.
Dr. Thamodaran remains involved in the industry.  Since January 2019, he has served as member of the Chicago Mercantile Exchange Group's Agricultural Markets Advisory Council.  
Dr. Thamodaran earned his PhD in agricultural economics, summa cum laude, in 1983 from Iowa State University, where he was a member of the Phi Beta Kappa and Gamma Sigma Delta honors societies.  Dr. Thamodaran earned his master's degree in agricultural economics and statistics in 1980 from the Indian Agricultural Research Institute and his bachelor's degree in agriculture in 1978 from India's Tamil Nadu Agricultural University.
Dr. Thamodaran currently lives in Virginia Beach, VA with his wife, where his hobbies include playing golf and reading history.  Together, Dr. Thamodaran and his wife enjoy travel and support various educational and cultural nonprofit organizations.