Businesses Globally Face Growing Instability and Deepening Challenges, According to "The Global Risks Report 2016"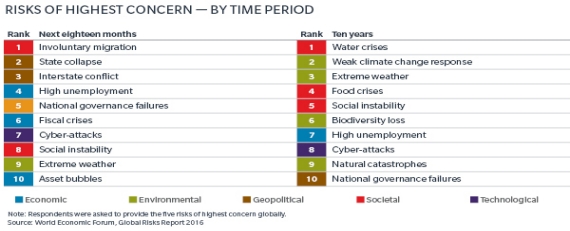 With the world confronted by an increasing set of interconnected issues, companies face a daunting task in navigating risk, according to this year's "The Global Risks Report 2016", prepared by the World Economic Forum with the help of Marsh & McLennan Companies and other partners.
Resilience requires a complex and nuanced approach.
2015 was characterized by increasing social and political instability. For example:
Some 60 million people have been forcibly displaced — and their migration is creating significant challenges.
The number of fragile states, characterized by weak governance regimes or unremitting conflict, is growing.
Radicalized insurgencies have spread their tentacles across the Middle East and North Africa and threaten security globally.
Geopolitical tensions are escalating among major powers.
The integrity of the EU remains under pressure — with leaders divided over responses to numerous crises.
Risks in other spheres are also contributing to a climate of unrest: China's economic slowdown, youth unemployment in southern Europe and the Middle East, asset bubbles in East Asia and parts of northern Europe, and slumping oil prices. Meanwhile, the US and others have been hit by cyber-attacks with increasing frequency and severity.  
Experts surveyed for "The Global Risks Report 2016" rated geopolitical and societal risks as the issues of highest concern in the short-term, along with related economic woes (see the graphic above).  Looking to the longer term, concern continues to coalesce around environmental issues — water crises, food security, extreme weather, and climate change — with social instability both a threat and a consequence.
Increased instability creates a challenging context for business.  At a macro level, the rising level of friction can act as a drag on economic activity at a time when positive impetus is sorely needed. The threat of business disruption is also higher, undermining the ability of international businesses to operate in certain countries or substantially changing the terms of operation.
Activist-driven volatility can influence political decisions by fragile governments and provide a frame of reference for workforce disputes, intensifying disagreements between companies and local communities.
What can businesses do to remain resilient in this challenging environment?  To start, think creatively about second- and third-order consequences.  You can then stress-test your company's supply chains and investment decisions, and evaluate changes to strategy that would help diversify their exposure to disruptive events.
You need to stay aware of internal and external sources of instability so you can address emerging issues rapidly and constructively. Staying power is critical, and companies that are adept in building the skills to manage through of continuous stress and global unrest will be better placed to thrive in a risky world.
(This blog is a condensed version of a John Drzik article that can be found on www.Brinknews.com. "The Global Risks Report 2016" presents a picture of the evolving global risk landscape on both short and long-term horizons. Read or download the report.